Earlier this month, augmented reality adult studio MyARGirls.com officially launched with a selection of AR videos ready and waiting for your viewing pleasure.
For now, there are 7 scenes on the site including POV and solo. Using both iPhone and Android smartphones, users can stream the video of their choice and position the model in their physical surroundings.
Each video plays at 60 frames per second and users can stream up to 3 girls during one single session.
A co-founder of MY AR Girls had this to say:
Good News!!! We at MyARGirls.com wanted to reach out to you to let you know that we have finally been able to integrate our site with our credit card processing company, CCBill. What does this mean? It means that we are OPEN for business.
I believe we are the 1st AR Adult content company that can provide actual pay membership services for augmented reality porn.
We will be adding new tabs to our site for "How to use" the 123Merge App., as well as a "Store" tab for purchasing adult toys, AR/VR Goggles to list a few items.
For now, you can go on the 123merge website here for video instructions on how to use the app.
Here is a free teaser video to practice with. It shows 3 of our models. All you need to do is copy and paste this link into the app. The instructional video will show you how to do it. Really easy.
It has always been our goal to be "the first" company to make it to market while providing the user with a fantastic experience.
As previously mentioned, the 123merge app is where the magic happens. We are the only company to offer a true stereo AR view, among other special functions, which when used with AR/VR goggles allows the user to feel like the porn star is in the same room as the user or place the porn star between the user's legs. A truly unique experience. It's really an easy to use app. and website.
Looking forward to providing you all with great content in the near future. Please let me know if you have any questions.
Pornstars and scenes
MY AR Girls currently features 8 pornstars and webcam models. You can bust a nut over hot MILF Parker Swayze, or go for hot blonde teen Jeni Juice.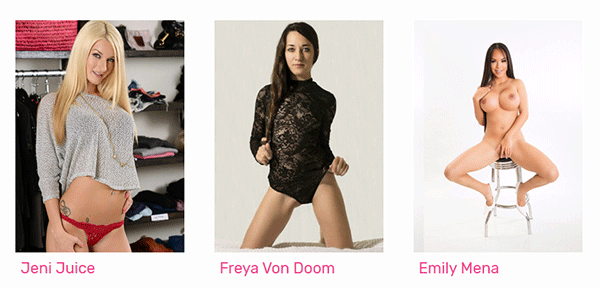 There is a reasonable variety of performances in the small library of scenes like striptease, blowjob, dildo, and POV sex videos both indoors and outdoors. The company state that they aim to release 2-3 new scenes a week while expanding their library of virtual pornstars.
How to watch MY AR Girls videos
1. Register at Myargirls.com and download the 123Merge app
2. Open the app and press the "plus" sign (+) at the top left-hand corner. (this will open the URL box
3. Copy the link for your chosen video from My AR Girls, then paste it in the URL box
4. Press 'done'