The conversations are heating up and questions about AR sex games continue to emerge in the world of augmented reality. What are they, when can I play one and what can I expect ? The popularity of adult sex games continues to rise year on year. Cartoon gaming characters such as D.Va from Overwatch and Misty from Pokemon are keeping hardcore players coming back for more. Virtual reality made it possible for users to take the game from a small, hand held mobile device to complete and utter immersion as they sit comfortably in their headset. Turning heads in all directions while being sucked in to a state of complete fantasy.
Smartphones such as Iphone X and platforms like ARKit are making augmented reality an ever more frequent term with the general population. As more people discover AR and the possibilities it holds. The more AR sex games becoming a part of our lives is being anticipated.
What Are AR Sex Games ?
AR Sex games are the combination of adult entertainment and augmented reality technology. As we have mentioned previously on this site, users will enjoy the satisfaction of bringing their erotic partner in to their own environment. that will be visible in the form of a 3D hologram.  Over time, she will increasingly become more adaptive to your surroundings. You've probably dabbled with the odd few online sex games here and there. Hit the screen and watch the lesbian chick go down on the other one. Tap quickly and sit back as your sexy hentai slut cum on your face. Personally, I was never a big fan this type of gaming, there's just not enough immersion. Then, VR arrived and started making things interesting.
3DXchat for example was one of the first to hit virtual reality and still to this day remains as one of the best sex games available. You can customize your avatar, select different scenes and locations. Even engage in your virtual activities with other players. Most of all, the game enables you to connect popular sex toy 'Fleshlight' so you can enjoy the experience to its fullest.
What To Expect ?
As big a transformation as this was to adult gaming, 3D AR sex games will be offering a whole lot more. You will experience interactive play like never before as you admire your fuck buddy clambering over your bed. You will able to see as she physically move around your room. Pose, dance, bend over the edge of your mattress as she beg for a spank. Developers will be aiming to make the playing experience hands free. Voice control will play a major roll. Meaning, users will be commanding their character or avatar with nothing more than the use of speech. Imagine the satisfaction of telling her to spread those tight ass cheeks and she just happily does whatever you say ? This will come in time. And with the addition of compatible toys, you will experience your sexual desires on an entire new level.
In the future, artificial intelligence will become a feature in porno. You may have heard about Sophie the robot. She is an artificially intelligent bot, programmed to have intelligent conversations with humans. It's pretty incredible to watch her in action. Not that you should expect this kind of advanced tech adopted by porn just yet. However, it is an example of where the world is currently at with AI technology and what we can expect to see in the future of adult entertainment.
When Will AR Sex Games be Released ?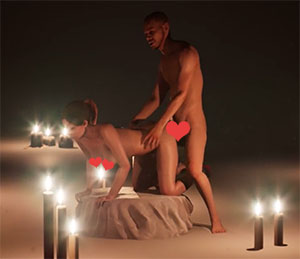 We can expect to see the first augmented reality sex games to be released on mobile and smartphone later in 2018. Recently, a few small studios have started to emerge that have been experimenting with AR porn.  A start-up by the name of CamasutraVR unveiled their take on AR last month. They began submitting some short clips of well known pornstar Casey Calvert as a computer graphics avatar. In the video she's seen sucking dick in a real-world public place. These guys have dabbled in Virtual reality gaming already after releasing VR Brothel earlier this year (shown in pic) so we can have high expectations that they'll deliver some quality AR content at some point during 2018.
A brand new studio by the name of 3D Holo Girlfriend aim to bring custom augmented reality girlfriends in to the real world environment. Naughty America recently announced an app they have developed where you can project pornstars in to the real-world. AR Kanojo (sister site of VR Kanojo) also uploaded a video of their Japanese teen girl hologram where she can be seen moving, walking, talking and interacting.
The tech is almost in place for AR sex games and apps to begin emerging. If we don't see the first real releases in 2018, then early the following year for sure. Expect limited functions and capabilities while the tech is still new. However, most will be free to play and enjoy while developers get to grips with AR technology.